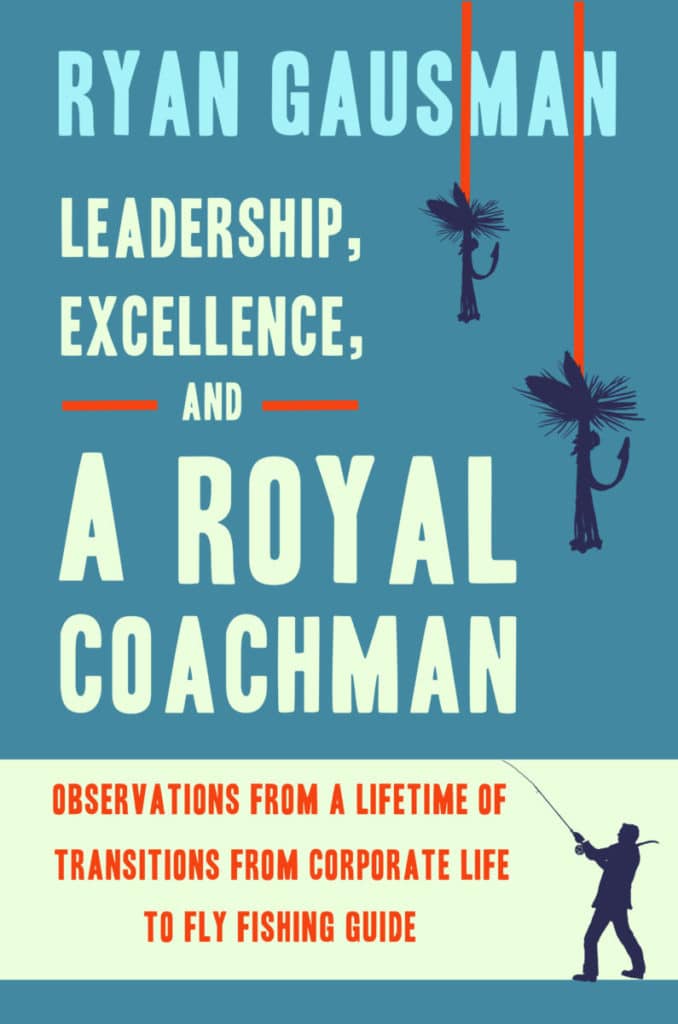 Leadership, Excellence, and a Royal Coachman
Observations From A Lifetime Of Transitions From Corporate Life To Fly Fishing Guide.
In a competitive world where resources are limited and customers have unlimited choices, great employees are hard to attract and retain, and excellence is the key to success. What if the best employees actively sought out your organization? What if every person in the organization envisioned themselves as an important member of a winning team, and chose to be a part of the solution to the challenges you face? Leadership is the answer, but only if it's excellent leadership. Join Ryan Gausman as he shares his observations regarding leadership and the pursuit of excellence gathered during a lifetime of transitions, from corporate life to his current occupation as an independent fly fishing guide. You can be that focused, respected leader who inspires excellence. Leadership, Excellence, and a Royal Coachman will take you there.
Leadership Tips from the Book
No organization will ever be able to develop a reputation for excellence until the employees of that organization are given a reason to be proud and excited and to truly believe the organization is excellent.
The only people customers ever come into contact with are the first-line employees. It doesn't matter one bit to customers what leadership believes because the people they see, hear from, and work with are those first-line employees. When those people are excited and proud to be part of the organization…. the customers will know it and be excited too.
Leadership cannot convince the marketplace that some excellent state of being exists by any amount of advertising and promotion if it does not. Only true excellence will convince the market, and it will advertise itself.
A confident leader inspires their subordinates to develop their own confidence as well by allowing them to share in the development of solutions to the challenges of day-to-day operations.
Immediately people notice and appreciate when leaders care about them, their success, and the success of the organization.
Something excellent organizations know that others do not is that excellence is not just an item. It's a "feeling in the air", a "way of being" that people notice. Excellent places feel good to visit. When you walk in, you notice it.
If we truly appreciate those around us and wholeheartedly believe in their value and worth, it will influence the purpose of our efforts as well…. How would others around us feel about following our lead if they saw this in our lives and actions?
"…this is great, very to the point and easy to read, which I believe is the key to a book that appeals to a wide group"
---
2019-12-18T20:10:50+00:00
Peter Foy, Chief Executive Officer, PCF Insurance Services Woodland Hills CA
"…this is great, very to the point and easy to read, which I believe is the key to a book that appeals to a wide group"
https://ryangausman.com/testimonials/peter-foy/
"This is a book bursting with profound wisdom gained from real life experiences.  It is a book to be retained as a valuable reference to anyone in a leadership position.  I highly recommend it!"
---
2019-12-23T13:25:17+00:00
Herb Oberg, Sergeant, USMC, retired; Captain, Snohomish County Sheriff's Office, Washington, retired
"This is a book bursting with profound wisdom gained from real life experiences.  It is a book to be retained as a valuable reference to anyone in a leadership position.  I highly recommend it!"
https://ryangausman.com/testimonials/herb-oberg/
"This book is a must-read for all leaders who desire to see their business or organization grow and succeed. This is not your basic ho-hum leadership book. Gausman's unique and transparent approach to leadership is woven between personal examples from fly fishing and numerous personal vocational experiences. His unique observations and clearly spelled out tried and true leadership principles will encourage you to step it up to become a better leader. As a leader who works cross-culturally in leadership training, I was personally challenged by the book and am looking forward to sharing these valuable leadership insights, possibly with a fishing rod and coachman fly in hand."
---
2019-12-18T20:12:46+00:00
Rodney Huson, President. Equipping to Serve Brazil Ministries, Brazil South America
"This book is a must-read for all leaders who desire to see their business or organization grow and succeed. This is not your basic ho-hum leadership book. Gausman's unique and transparent approach to leadership is woven between personal examples from fly fishing and numerous personal vocational experiences. His unique observations and clearly spelled out tried and true leadership principles will encourage you to step it up to become a better leader. As a leader who works cross-culturally in leadership training, I was personally challenged by the book and am looking forward to sharing these valuable leadership insights, possibly with a fishing rod and coachman fly in hand."
https://ryangausman.com/testimonials/rodney-huson-2/
"I am really impressed with the insightful pearls of wisdom that are packed into 131 pages. It really reads well. I really think that this book will appeal to people of varied occupations, gender, and interests. Well done my friend."
---
2019-12-18T20:13:18+00:00
David Smith, Principal, Whitwell Elementary School, Whitwell Tennessee
"I am really impressed with the insightful pearls of wisdom that are packed into 131 pages. It really reads well. I really think that this book will appeal to people of varied occupations, gender, and interests. Well done my friend."
https://ryangausman.com/testimonials/david-smith/